Do you enjoy discovering the great outdoors and immersing yourself in nature? In the Lake District, we have an abundance of spectacular scenes and accessible trails to explore, where panoramic views meet peace and quiet.  There are some delightfully easy Lake District walks only a short 30-40 minute drive from Brayton Park. And to give you inspiration for your stay with us, we have chosen five of our favourite strolls to share with you.
Whether you're looking for a walk with the family or a romantic ramble, these will fit the bill while leaving you with plenty of time to enjoy your luxury lodge in the Lake District. 
Ling Fell
1.7 miles | Circular Route | 50 minute walk | 30 minute Drive
One of Wainright's most northerly fells, Ling Fell has stunning views over the north-west to Cockermouth. The fell's tracks and paths used to form part of an old 'corpse road', where mourners would take their loved ones to the nearest church. This is where you will start your walk, as you traverse the fellside to reach the summit. On the gentle ascent, you'll find grassy slopes which make way for heather once you gain height.
Parking: There is a small car park beside Brumston Bridge.
Full details & maps: https://www.walklakes.co.uk/walk_149.html
---
Sale Fell
2.1 miles | Circular Route | 60 minute walk | 30 minute Drive
Situated right next to Ling Fell, Sale Fell is another of Wainright's northern fells in our easy Lake District walks guide. It may not be as high as Ling Fell, but it still offers dramatic scenery of Bassenthwaite Lake and Binsey. As you descend you will find lovely views over Keswick and Eskin and at the bottom St Margaret's Church.
Parking: There is a small car park beside Brumston Bridge or spaces to park on a public road near the start of the footpath. 
Full details & maps: https://www.walklakes.co.uk/walk_150.html
---
Latrigg
3 miles | Circular Route | 2/2.5 hour walk | 30 minute Drive
You'll find Latrigg just outside of Keswick and an absolute must if you want to combine walking with a visit to one of the most quaint towns in the Lake District. This walk starts and ends in Keswick, so treat yourself to some of the local fayre like Friar's chocolate or visit the famous Derwent Pencil Museum (you'll need to book your visit at the moment). The walk itself is an easy circular route, with breath-taking views of Keswick and Derwentwater.
Parking: There are various car parks in Keswick but we would suggest either Booths or Theatre by the Lake as they are the easiest to find.
Full details & maps: https://www.keswick.org/what-to-do/walking-routes/latrigg-walking-route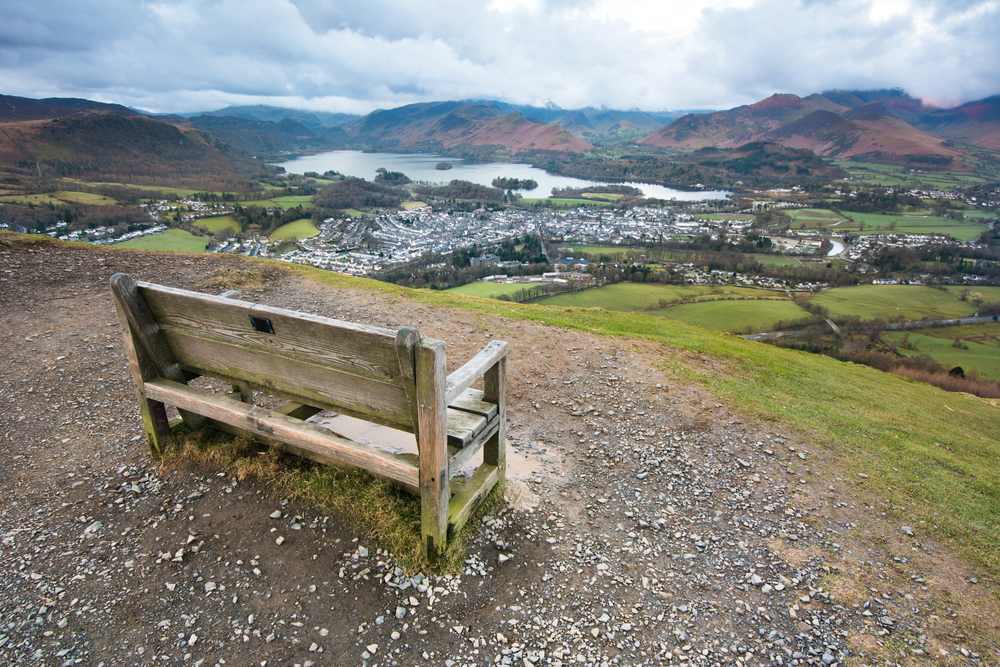 ---
Rannerdale Knotts
2.5 miles | Circular Route | 2 hour walk | 40 minute Drive
Rannerdale Knotts is at its best during May when you'll find a sea of bluebells covering the fell. Their heady scent makes winding past the delicate flowers an absolute joy. The walk is easy to navigate with well-defined paths. You will be met with a steep but manageable ascent to start, and the view over Crummock Water makes the small challenge worth it. The descent is equally as charming as you weave your way down a forest path and over a beck to the car park.
Parking: Roadside car park on the B5289 Lorton to Buttermere at Hause Point.
Full details & maps: https://www.walkingbritain.co.uk/walk-2020-description
---
Watch Hill & Setmurthy Common
3.7 miles | Linear Route | 1.5 hour walk | 30 minute Drive
Lush green pastures await you on this gentle ramble up to the two grassy knolls of Watch Hill and Setmurthy Common. As you stride between the two, you will take in vast panoramas and dramatic views of popular Lake District fells like Skiddaw. Making your way back down, you'll see Cockermouth in the foreground and beyond the Solway Firth with Dumfries and Galloway behind.
Parking: Parking area on Higham road at the junction of the old Cockermouth to Keswick road.
Full details & maps: https://www.walklakes.co.uk/walk_220.html
---
Staying Safe on the Fells
While these are all easy walks, that most people will be able to manage, it's essential to know how to stay safe on the fells. The most important thing is to understand your own limits and if you've not been fell walking before, start off slow and choose a low gradient walk. Before heading out, always check the weather, wear appropriate clothing including sturdy walking boots or trainers. You'll also need to pack a bag with these essentials:
Water – it's important to keep hydrated.
Snacks / Food – not only is it great to have lunch along the route, but snacks will also keep your energy up.
Mobile phone – You'll want to take photos but also essential if you get lost or in trouble.
Power Bank – keeping your phone charged is really important.
First Aid Kit – a basic one is fine, but it's handy for any cuts or blisters.
Suncream or Hat & Gloves depending on the weather.
Raincoat & extra layers – the weather can change quite quickly here in Cumbria so make sure you're prepared.
Torch – if you're heading out late afternoon they're great if you get caught out by sunset.
Map & Compass – having your route instructions is great but a map & compass is good for a backup.
Our Mountain Rescue services do a fantastic job keeping people safe and provide some great information for walkers, find out more from Keswick Mountain Rescue. You can also be Adventure Smart and plan for a great day here.
If you have any further questions about our Easy Lake District Walks, our team would be more than happy to answer.