Home Farm Butchers Shop
At Brayton Park, we take great pride in field to fork eating. The meat we use in our restaurant is sourced from our onsite farm, with vegetables and herbs grown in our Walled Garden. However, there is always an abundance of produce each year and we wanted to find a solution to create more delicious food.
We would like to introduce you to our brand new farm shop!
Our Opening Times Are: 
Monday ….. 9 am – 1 pm
Tuesday ….. 9 am – 5:30 pm
Wednesday ….. 9 am – 5:30 pm
Thursday ….. 9 am – 5:30 pm
Friday ….. 9 am – 5:30 pm
Saturday ….. 9am – 2 pm
Sunday ….. Closed
Our Christmas Opening Times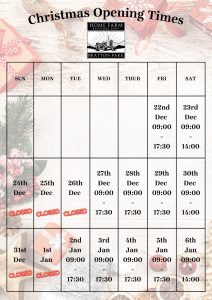 View Our Online Shop Here